Diana Platts – Actor, Host, Fitness Instructor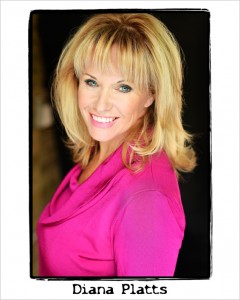 Diana Platts is a professional actor (ACTRA member), host and broadcast journalist. She is represented by Newton Landry Management Inc – Yanick 416-960-8683. Please visit Casting ACTRA to view Diana's entertainment CV and download her demo reel including her new music video also posted on this site under 'media': New Pair of Shoes.
Diana is also an Ontario Fitness Council certified instructor with over twenty years experience in boutique and major gyms across Toronto. Diana also works as a Project Manager and is a certified PMP® (listed on PMI's site under Jonas).
Diana Platts was a professional dancer and is certified in several group exercise fitness formats including her latest passion Kangoo Jumps (adults and children over 6), Zumba,  VIPR (Vitality, Performance, Reconditioning), Zumba Step, Zumbatomic for kids, Group Power (and BodyPump) TurboKick, Hip Hop, PiYo (pilates/yoga fusion) BodyCombat, BodyFlow (Yoga Pilates blend), Body Step and Bokwa. Diana loves kids and does incredibly fun fitness birthday parties in the Greater Toronto Area – bringing Kangoo Jumps boots for kids or holding a Hip Hop Hustle or Zumbatomic party.
As a singer/dancer who performed in the original company of CATS in Canada, she recently recorded a fun Kangoo Jumps fitness workout song; she shot her first Kangoo Jumps music video singing, bouncing and dancing to an 80's tune that is a fun spoof on the 'Diva' Patti Labelle's dance hit: 'New Attitude. The new name of this Kangoo Jumps tunes is, what else? New Pair of Shoes!
She is an actor (Diana Platts is her stage/union name) and has performed in feature films with Denzel Washington (John Q) and Gene Hackman (Welcome to Mooseport) as a principle actor. Her latest part in a TV show was for the acclaimed hit comedy on CBC: Michael – Tuesdays and Thursdays. She was a member of the original Canadian company of the hit musical CATS and performed four roles, understudying and singing solos (McCavity and the athletic MungoJerry and Rumpleteazer which required tumbling back handsprings on a rake [inclined] stage with no mats 8 times a week!). Please CLICK HERE to view Diana's demo reel!
As a hard core and experienced fitness instructor she brings athleticism to her dance style classes and funky moves to her Turbokick boxing or fitness classes. As an actor, her people/communication skills are excellent which is critical to keeping the 'party' going during the class.
Fitness Certifications
CanFit Pro Certified (since 2000: 1998-14832)
OFC Certified ( Ontario Fitness Council – 5591)
CPR & Emergency First Aid certified
Kangoo Jumps Instructor
Zumba & Zumba Step Instructor
Bokwa Instructor
Zumbatomic instructor (Zumba for Kids)
PiYo certified (Pilates/Yoga fusion)OFC Yoga Certification for Fitness Professional Level 1 (underway)
Turbo Kick, Hip Hop Hustle and Body Combat Certified Instructor
Body Training Systems (now Les Mills International) certified instructor for: – BodyCombat, BodyFlow, BodyStep and BodyPump
Professional dancer, singer, actor – The Messinger Agency (ACTRA/Equity)