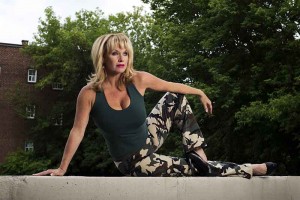 Diana's Group Exercise Class Schedule
Week at a Glance  – See below for a list of Diana's Fitness Classes across Toronto. As of January 2017 her schedule with the City of Toronto recreation programs registration is as follows.
Diana Platts Kangoo Queen!
Here is my week at a glance – Group Exercise schedule as of 2017. Please visit the Fun Guide for up to date information as this schedule is subject to change. Come on out and join me and  together we can have fun getting fit!
Find a Class for YOU! Contact Diana for details. Drop in's always welcome! If taking a Kangoo class, call to ensure your size is available as it is first come first served (or bring/buy your own from Diana). Try something new? Kangoo Jumps, Zumba or VIPR!!
Class Details
Try a Kangoo Jumps class with Diana Mondays at 6:15 pm in Forest Hill; in the gym at Grace Church on the Hill, 300 Lonsdale, in mid-town Toronto. Contact Diana for more information. Participants will need to sign a waiver. Kangoo Jumps Class Fee/Cost: $35 for four classes (that's just $8 a class folks!) or $15 drop in. Note class fee includes boot rental. Sizes are available first come first serve with priority for monthly (four pass) participants.
THE KANGOO CLASS  in Forest Hill IS ON HOLD, please call for details about private classes.
VIPR – Vitality, Performance, Reconditioning – this brand new  9:45 am saturday morning Parkway Forest Community Centre taught by Diana is an amazing class that bridges the gap between movement and strength training. It combines full-body movement with load, enhancing the vitality, performance and reconditioning goals of clients and athletes. ViPR introduces a new concept in fitness and sports conditioning – Loaded Movement Training.
The latter combines task-oriented movement patterning with resistance training. Agility and strength come from moving the body in a multitude of purposeful tasks with load, just like back on the farm.
Monday/Wednesday/Thursday Nights Zumba with Diana – various locations (see above).
Join  City of Toronto gym as a member (type C pass) and most of these classes are included or just drop in and pay as you go (approximately $8) to the recreation desk. Participation/fees vary by location call the facility for details or check the Fun Guide.
For Friday night 6:15 pm group bar bell weight lifting class, please drop in/or join Wallace Emerson Community Centre (1260 Dufferin St—Dufferin & Dupont) You can also buy a punch card of ten passes from the Rec Desk staff at any time. Punch cards don't expire and are good at all City of Toronto gyms
City of Toronto Fitness Pass Members: Participation fee is included in a Type C fitness pass OR Non-Members: Can pay a drop in (day pass) fee of just $11 per class  For City of Toronto Fitness program information call 3-1-1 or go online at www.toronto.ca/fitness  Check the Fun Guide for details and exact pricing.
Saturday and Sunday Mornings –  double whammy! PiYo followed by VIPR on Saturday at Parkway Forest Community Centre, then Sunday's it's Zumba Step followed by PiYo® – Pilates/Yoga fusion class (Sun 11:15 am, Eglinton/Ave Rd) with Diana at the City of Toronto's  North Toronto Community Centre at 200 Eglinton Ave W, Toronto ON M4R 1A7 · Yonge and Eglinton 416-392-6591. Note – the NTMCC will be closing for renovations next fall so the location of those classes is TBD in the interim – call the facility for details after the fall of 2017.
For City of Toronto Fitness program information call 3-1-1 or go online  www.toronto.ca/fitness