Zumba, Zumba Step, Zumba Kids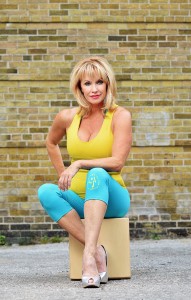 EXERCISE in DISGUISE
Zumba

®
DITCH THE WORKOUT – JOIN THE PARTY!  Zumba is perfect For everybody and every body! Each Zumba® class Diana teaches is a PARTY. The class is designed to bring people together to sweat it on. Zumba® fuses hypnotic Latin rhythms and funky moves to create a dynamic fitness program. It's an absolute blast in one exhilarating hour of caloric-burning, body-energizing, sizzling movements. The routines feature interval training sessions where fast and slow rhythms, and resistance training are combined to tone and sculpt your body while burning fat. Add some Latin flavor and international zest into the mix and you've got Zumba®! http://www.zumba.com
How It Works: We take the "work" out of workout, by mixing low-intensity and high-intensity moves for an interval-style, calorie-burning dance fitness party. Once the Latin and World rhythms take over, you'll see why Zumba® Fitness classes are often called exercise in disguise. Super effective? Check. Super fun? Check and check.
Benefits: Zumba is a total workout, combining all elements of fitness – cardio, muscle conditioning, balance and flexibility, boosted energy and a serious dose of awesome each time you leave class. Another benefit of learning some cool latin dance, hip hop, or swing moves is to improve your confidence and the fun factor at your next social event or vacation down south! Bring your partner or teach your partner how to Zumba and you'll both become dancin' fools!
Zumba

®

Step
Zumba® Step is perfect for those who are looking to feel the burn, baby! Looking to strengthen and tone your legs and glutes? Step right up. This class is more intense cardio than regular step but still, true to the Zumba format and philosophy, its still okay for beginners.
How It Works: We combine the awesome toning and strengthening power of Step aerobics, with the fun fitness-party that only Zumba® brings to the dance-floor.
Benefits: Zumba® Step increase cardio and calorie burning, while adding moves that define and sculpt your core and legs.
Zumba

®

Kids – birthday parties or special classes
Perfect for our younger Zumba® fans! Kids 7-11 years old get the chance to be active and jam out to their favorite music.
How It Works Zumba® Kids classes feature kid-friendly routines based on original Zumba® choreography. We break down the steps, add games, activities and cultural exploration elements into the class structure.
Benefits Helps develop a healthy lifestyle and incorporate fitness as a natural part of children's lives by making fitness fun. Classes incorporate key childhood development elements like leadership, respect, team work, confidence, self-esteem, memory, creativity, coordination, cultural awareness.